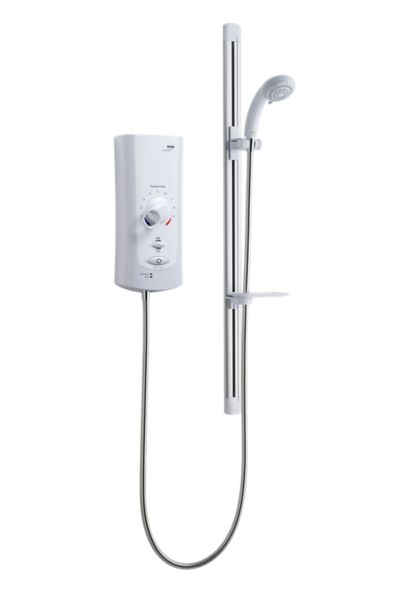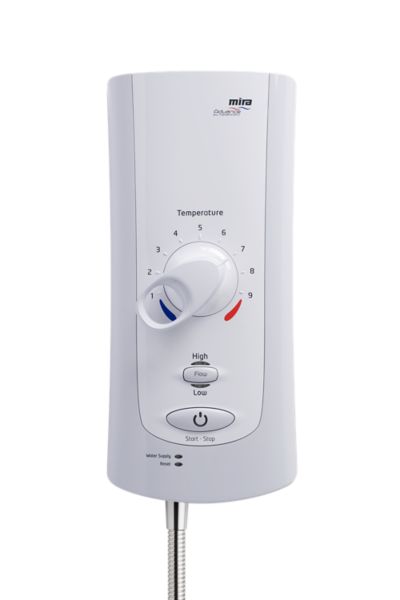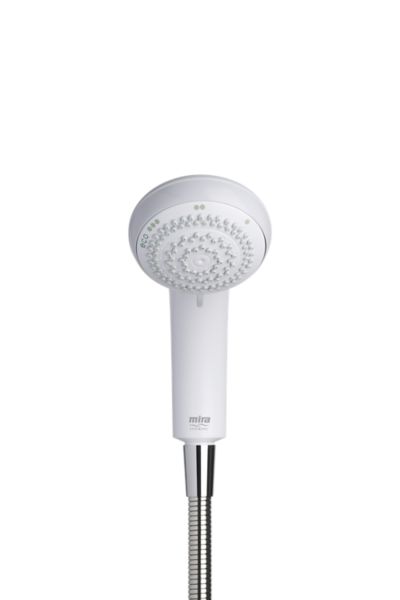 Mira Advance ATL Flex Extra Wireless
(9.0kW)
When connected to the Whale Instant Match kit, it allows quicker drainage which reduces the risk of flooding. Ideal for a wetroom floor where drainage can be more difficult.
2

Year warranty

Cold Mains
Find a store
Find out more
Product No:

1.1643.311
Features and Benefits
For the ultimate in safety and flexibility with wireless capabilities, choose the Mira Advance ATL Flex Extra Wireless. It wirelessly connects with the Whale Instant Match kit, which provides a great pumped drainage system, helping reduce the risk of flooding. The two products connect wirelessly giving the ability to communicate with one another to spot potential issues.

Wireless technology

Wireless connection between shower and pump allows pump suction to adjust with shower flow rate

Helpful, assisted showering

Large, colour contrasted rotary lever, tactile raised areas with large on/off backlit button and audible beep - all designed to aid user navigation.

Safer showering

Safer showering with thermostatic temperature control and adjustable temperature limit, allowing the user to choose from 8 maximum temperature settings.

Safety accreditation

Endorsed by the Royal National Institute of the Blind for safe showering.

Ultimate flexibility

Easy to use slide bar and friction bracket which can be adjusted with one hand. Extended 1m slide bar and 2m hose for greater flexibility.

Consistent performance, longer-lasting shower

Even more advanced than our Mira Clearscale™ technology which reduces the build-up of limescale by up to 50%, this anti-limescale technology is best in class.

Greater coverage

4 spray showerhead for greater experience and rub-clean nozzles for easy cleaning.
Specifications
A great showering choice for safety in adaptations, with the added ability for wireless connection between shower and Whale shower waste pump.

Temperature control

Control type: Thermostatic (electronic)
Adjustable maximum temperature for on-site conditions
Phased shutdown flushes hot water from the tank to make it safe for the next user
Factory set to safe max temp: Adjustable between 37°C-48°C
With a large, colour contrasted rotary lever, tactile raised areas, a large on/off button, back-lit buttons and an audible click on the temperature lever, it's easy for everyone to use

Installation Information

Supply Voltage: 230v + 10%
Supply rating 40 amp
Terminal block connections: Maximum 16mm²
Water entry points: Right (Rising, falling or rear with an elbow)
Cable entry points: Right (Rising, falling or rear)
Inlet connections: Brass inlet connector. 1/2" BSP Male and 15mm compression fitting
Outlet connections: 1/2" BSP Male

Supply Conditions (cold mains feed)

Minimum maintained pressure: 1 bar (10 metre head)
Maximum maintained pressure: 5.0 bar (50 meter head)
Maximum static pressure: 10.0 bar (100 metre head)

Easy to Fit & Maintain

Wireless connection between shower and waste pump
No physical link required between Instant Match and Mira Advance
Wireless Control
Simple pairing of pump with shower

Benefits for your customer

Separate temperature and flow controls
Rotary lever with large loop
Tactile raised areas, large backlit buttons
Extra long slide bar and hose for easy height adjustment
Four spray showerhead

Product Approvals

WRAS Approved
BEAB Care Approved
Energy Efficiency: Class A
Mira and Whale
Market leaders in adaption market
Resources
We have a range of product information resources available for the Advance ATL Flex Extra Wireless.

Installation & User Guide

Your Mira Product Installation and User Guide will include all the relevant product information on how install and use your product. You will also find information on the product's guarantee and customer service details.

Download

Shower Fittings User Guide

This information guide is specific to the shower fittings used with the Mira Shower purchased. Providing installation support for the showerhead and the fittings kit.

Download

Dimensional Line Drawing

The line drawing with provide dimensional sizes for the Mira Shower product selected.

Download

BMA Water Label

The Water Label is a voluntary cost-efficient and flexible labelling scheme for the reduction of water consumption across water product industries.

Download

Product Datasheet

For in-depth technical information and product approvals please refer to the Mira Product Datasheet.

Download

Spares Guide

Looking for a spare art for your shower? View this guide to identify the part required.

Download
Our electric showers live longer
We know that whatever we put into your electric shower, isn't nearly as important as what you get out of it. That's why your Mira Advance ATL FLex Extra features the advanced Mira Clearscale™ Plus technology.
Flexible care benefits
The Mira Advance ATL Flex Extra can be linked to the Whale Instant match pump. This wireless discreet system features 2-way communication between the shower and the pump, enabling a fail-safe automatic shutdown to reduce the risk of flooding.
For the Expert
Mira Advance ATL Flex Extra Wireless is the dependable specification choice. Its Whale Instant match pump is wireless, allowing for minimum disruption in the event of a service call.