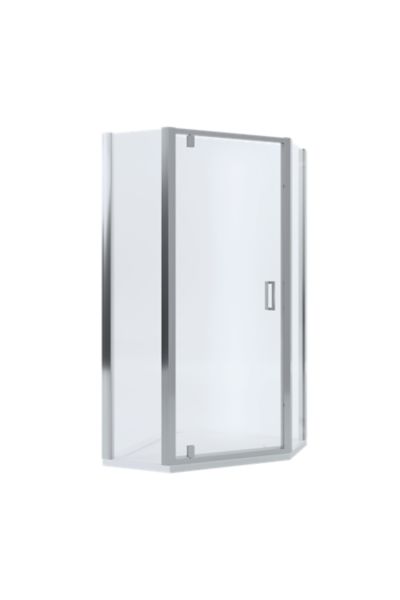 Mira Leap
Pentagon Panels - 900 x 900mm
Combine the 900x900mm panel with either a Bi-fold or Pivot Door to create a complete enclosure.
Find out more
Product No:

1.1857.250
Features
Easy to clean
CleanCoat® glass coating technology makes Mira Leap enclosures incredibly easy to clean and looking like new for longer
Hidden features
Discreet hinge design, no visible fixings or screwcaps for a clean, uncluttered look.
Sleek design
Strong lines and neat surfaces provide a stylish aesthetic both inside and outside.
Complete the look
Combine the Mira Leap Pentagon Panels with either a 760mm bi-fold or 760mm pivot door for a complete enclosure unit.
Built to last
6mm toughened safety glass that comes with a lifetime guarantee for complete peace of mind.
Specification
Installation Information
30 mm adjustment on each wall jamb for uneven walls
Patented 'Twist and Lock' screwless installation system
Patented 'Twist and Lock' screwless installation system
Combine panels with a 760mm Bi-fold or Pivot door
No visible fixings or screwcaps
Installer Product Features
Step 1: Mira Leap 760mm Bi-Fold or 760mm Pivot Doors required
Step 2: Select correct size Pentagon Panels to complete
Benefits for your customer
855-885mm