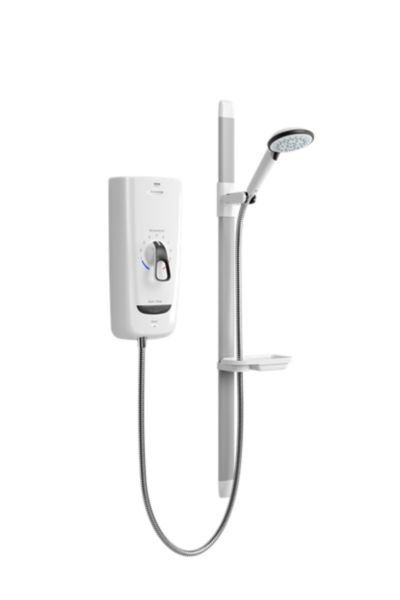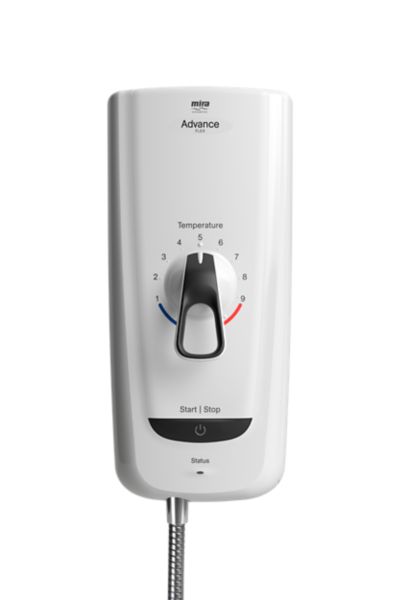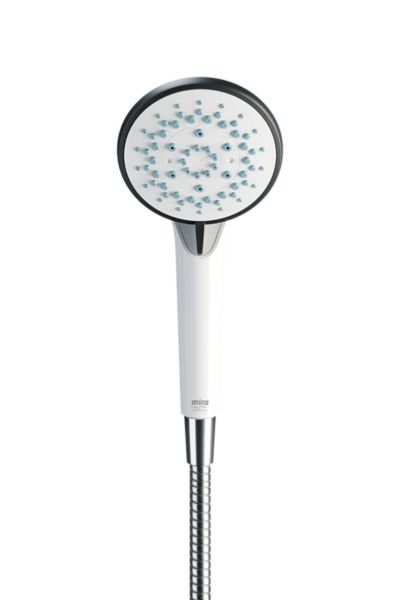 Mira Advance Flex
Flex (8.7kW)
2

Year warranty

Cold Mains
For a safe, reliable and long-lasting electric shower, look no further than the new Mira Advance Flex. Thoughtfully designed with the user in mind, it's packed with helpful safety and navigation features to make showering easier, especially for the vulnerable user.
Find out more
Product No:

1.1785.003
An easier way to replace your shower.
Looking to replace your shower? We're here to help you choose the ideal replacement – and we can fit it for you for just £100, too. Just book online and leave the rest to our experts.
1. Register Online
Sign up for a Mira Account or Login
2. Confirm your existing shower
We'll help identify your current model to upgrade
3. Choose your new shower
We'll recommend some replacement options
4. Sit back and relax
Choose a day and let our engineers do the rest
Features
Audio enhanced
Clear, audible beeps indicate the unit is turning on/off or has reached the desired temperature. Audible clicks when turning the temperature dial.
Visually optimised
High contrast visuals on critical touchpoints, and a matte finish panel, make the Advance controls easier to see for the visually impaired.
Tailored to touch
Features including a patented friction grip showerhead holder enables the user to lower the showerhead holder with one hand. Large, easy press buttons and loop handle are easier to use even with limited finger dexterity.
Built to last
With Mira Clearscale Pro™ - market-leading anti-limescale technology - Mira Advance Flex will outlast the competition and ensure a greater showering performance.
Designed for safety
Mira Opti-flo Pro™ delivers a consistent showering experience all year round, regardless of water pressure. Plus, thermostatic temperature control and adjustable maximum temperature settings ensures safety and peace of mind.
Accredited by experts
Mira Advance Flex was designed following research and in-depth interviews with users, Occupational Therapists, as well as specialist organisations the RNIB and Skin Health Alliance to ensure a truly user-enhanced experience, particularly for the elderly and vulnerable.
Easy to use fittings
Extra long easy to use slide bar with patented friction-grip showerhead holder.
Specification
Temperature control
Control type: Thermostatic (electronic)
Adjustable maximum temperature for on-site conditions
Phased shutdown flushes hot water from the tank to make it safe for the next user
Factory set to safe max temp: Adjustable to 4 different max temp settings (41°C-48°C)
Installation Information
Supply Voltage: 230v + 10%
Supply rating 40 amp
Terminal block connections: Maximum 16mm²
Water entry points: Right (Rising, falling or rear with an elbow)
Cable entry points: Right (Rising, falling or rear)
Inlet connections: Brass inlet connector. 1/2" BSP Male and 15mm compression fitting
Outlet connections: 1/2" BSP Male
Supply Conditions (cold mains feed)
Minimum maintained pressure: 0.5 bar (5 metre head), (1.0 bar BEAB Care)
Maximum maintained pressure: 5.0 bar (50 meter head)
Maximum static pressure: 10.0 bar (100 metre head)
Benefits for your customer
Easily accessible controls, with high contrast on critical touch points.
Audible and tactical features for the visually impaired user
Four different maximum temperature settings
Anti-glare matte finish panel
110mm showerhead with 3 spray modes and extra long easy to use slide bar with patented friction grip showerhead holder
Product Approvals
WRAS Approved
KIWA UK Approved
BEAB Care Approved
RNIB Approved Gold awarded
RNIB Approved Gold awarded
Our electric showers live longer.
Enjoy the reassurance that your new Mira Advance Flex electric shower will outlast the competition. With our best in class Mira Clearscale Pro™ technology, your shower will last longer and perform better.
Easy to use controls.
The Mira Advance Flex controls are user-friendly and ideal for those with limited finger dexterity. The central loop handle is accessibly designed to suit any user's needs.