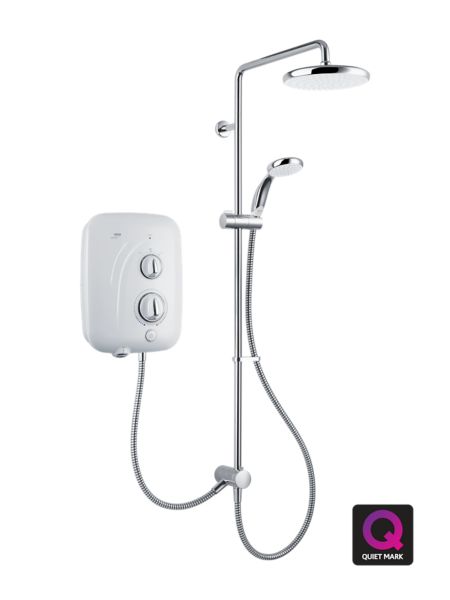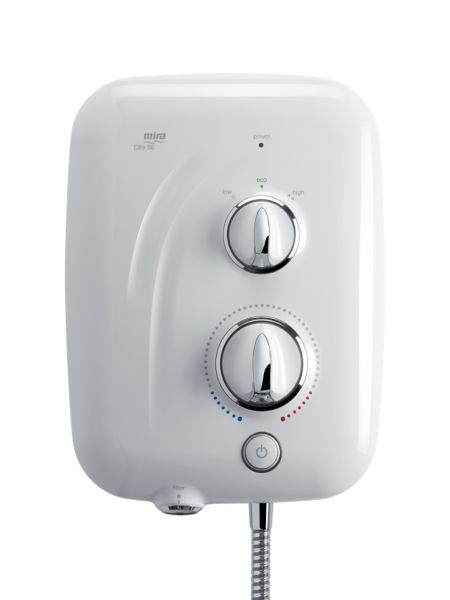 Mira Elite SE Dual
(9.8kW)
Designed for silent showering the Mira Elite SE pumped electric shower takes cold water on low pressure, gravity fed systems and silently delivers a strong and consistent performance. Divert between the large overhead and handheld showerhead for double the experience.
Find out more
Product No:

1.1941.003
Looking to replace your shower?
We're here to help you choose the ideal Mira shower replacement – and we can fit it, for just £110, too. Simply select, book and leave the rest to our experts.
1. Confirm your existing shower
We'll help identify your current model
2. Choose your new shower
Find the perfect replacement for your space
Features
Powerful performance
The integrated pump provides a strong and consistent flow - suitable for a low pressure water supply
Silent showering
Quiet Mark approved - pump cannot be heard when water is running
Double the experience
Dual Showering for a luxurious showering experience. Divert between a 200mm deluge overhead or 90mm handshower
Easy to clean filter
The Mira Clean-flo™ filter is designed to be easily accessible, to enable self-cleaning to maintain shower performance
Simple settings
On/off push button for ease of use, plus separate flow and temperature controls. Shower on demand
Ideal Replacement
The same footprint and screwholes as the Elite QT and ST makes it an easy replacement.
Specification
Temperature control
Pressure stabilised temperature control
Easy to fit
Like-for-like replacement of older Elite models. Uses same footprint and screw holes as Elite ST and Elite QT
Slide bar can be fitted on the left or right of the shower unit
Easy to service
Mira Clean-flo™ filter to protect your shower from debris, keeping your shower in peak condition. Designed for easy‑access and features built-in isolation for easy cleaning
For your customer
An integrated pump boosts your shower on a low pressure system
Dual Showering for a luxurious showering experience which you won't find on any other pumped electric shower: Switch between a 200mm deluge overhead or 90mm handshower using the clever diverter
Silent showering: So quiet that when the water is running you won't hear the pump. Quiet Mark™ approved – as awarded to products which make a huge difference to noise in the home
Continuously rated meaning you can run the shower for as long as you need. Perfect for large households